Transportation from Denver Airport to Convention Center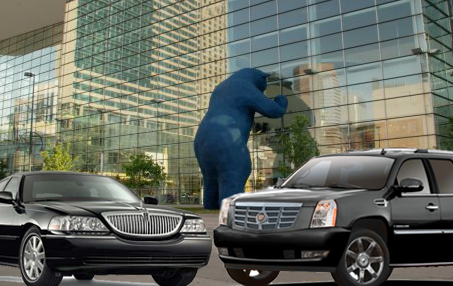 If you're in town for a big event and need a ride to all the excitement, call Express Colorado Transportation. We make it easy for you and your friends to travel there and back again. Call our operators and get a ride from Denver Airport to Convention Center Transportation today. Jump into to the city head first with premier transportation services. We offer a complete line of SUVs, sedans, town cars and limousines. Don't hesitate to embrace the energy of Denver's busy downtown. Drive through legendary 16th Street Mall. Stop by the big blue bear and get your photo taken before your special day of activities begins.
Come visit the sights and sounds of the Denver downtown Climb aboard for a world class view of the Mile High City.
Stop by the big blue bear and get your photo taken before your special day of activities begins. The convention center is home to some of the greatest events in Denver and the country. Visit an annual festival, dress in cos-play for a nerdy event, bring your scrabble team for the big competition. Denver Convention Center is the place to be for those rare treats. Come watch a comedian or musician. Arrive in luxury for the occasion and make your memories last.
There's no reason to wait around all day just to get to the event. With Express Colorado Transportation there's no more delay in getting things to go your way.
Tired of taking the train every year?
Need a more reliable means of travel?
Need a quick and accountable service? Look no further than this website.
Denver Airport to Convention Center takes you to the center of the action. We provide convenient comfortable accommodations from Denver airport to Denver Convention Center town Car services. We let you skip the fuss of regular transportation. Don't argue over prices with those yellow and orange cabs. Don't wait around wasting hours on that public bus or rail. Give yourself the royal treatment and register your ride with us. You've been invited to a special event in Denver, now make the moment memorable with premium service. Contact our business and give your dreams a drive.
Find your feet at the historic Mile High Stadium. Drop in for an evening at the finest hotels in town. Let us take you from Denver Airport To Convention Center transportation services in style. With our services you're sure to succeed. Have some fun this time around and give your friends and family an outing to remember. Denver's luxurious line of accommodations should only be accessed by the elite in travel providers. Express Colorado Transportation teleport you and your family away from the chaos of the terminal and into the tranquil environment of your event. Find your friends an easy way to ride this year. Dress for success and arrive in style. Don't worry about those other guys. Give your trip the attention it deserves. Call our specialist today and arrange your Denver airport to Convention Center trip with us.